Exceptional Heating and Air Conditioning Services in Claremont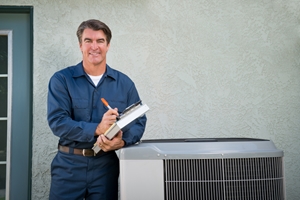 For nearly twenty years, McKinneys Heating and Air Conditioning has been a staple of the Claremont community. Our professionals proudly provide the highest quality HVAC services to local families and businesses. Our Claremont heating contractors and air conditioning service professionals are second to none in skill, experience, and dedication to customer service. With our help, you will be able to keep your HVAC system and critical components operating in the best possible manner at all times.
Our professionals take you and your family's comfort seriously. As such, we treat every service as if we were performing it in our own home. With this mindset, our contractors routinely achieve the best possible results. Our customers realize that they can trust us with all their present and future heating and air conditioning needs.
Call McKinneys Heating and Air Conditioning today if you need to work on the HVAC within your Claremont home or business. Our polite staff would be happy to take your call and to assist you in any way that we can. Our knowledgeable experts can answer all of your questions about your system or our exceptional services. We can schedule your appointment at your first convenience.
Heating and Air Conditioning Repairs in Claremont
Nothing is worse than having a heater or air conditioner fail to perform when you need it to. The most common cause of HVAC malfunctions is the owner's failure to conduct adequate routine maintenance. As McKinneys Heating and Air Conditioning, our professionals are here to help you prevent major home comfort issues and to repair extensive problems when they occur.
We are adept at both routine heating and air conditioning tune-ups as well as major emergency AC and heating repairs in Claremont, NC. With our help, you and your family will always enjoy the most reliable and efficient source of comfort within you Claremont home.
Indoor Air Quality Services in Claremont
Far too often, property owners fail to consider the impact that their HVAC system has on the indoor air quality of their home or business. According to estimates, indoor air quality is on average 2 to 4 times more polluted than outdoor air. Dust, dander, poor relative humidity, chemicals, and other contaminants all can cause discomfort and health problems. If you are concerned about the quality of the air within you Claremont property, call McKinneys Heating and Air Conditioning today.
Our air conditioning company specializes in a wide range of indoor air quality services for the Claremont area. Through the following efforts, we can enhance the comfort and well-being of your Claremont family members:
Air Cleaners
Humidifiers
Duct Cleaning
And More
If you are looking for a professional air conditioning and heating contractor in Claremont, NC then please call McKinneys Heating and Air Conditioning at 828-544-5570 or complete our online request form.