Highly Skilled Heating and Air Conditioning Contractors in Lenoir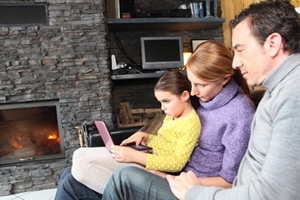 For the last two decades, McKinneys Heating and Air Conditioning has been proudly serving Lenoir residents and commercial property owners. We are a family owned and operated business that understands the importance of comfort and air quality. Our Lenoir heating contractors and air conditioning specialists have the knowledge, skill, and ability necessary to install or repair any portion of your HVAC system. With our help, your property will always be as comfortable as possible.
If you need to install, repair, maintain, replace a heater pr air conditioner in Lenoir, call McKinneys Heating and Air Conditioning today. We would be happy to discuss your needs with you and to inform you as to the many ways in which we can provide for them. Our air conditioning company would be excited to schedule your appointment today.
Air Conditioning Tune-Ups in Lenoir
In order for your air conditioner to operate efficient and reliably, it must be regularly maintained. This complex system has many moving parts, connections, and components. If a problem occurs with a single portion of your air conditioner or ductwork, your entire HVAC system can suffer.
During our air conditioning tune-up services, our Lenoir air conditioning technicians will inspect your entire HVAC system and will troubleshoot your AC unit. We will find and repair any inefficiencies or damage that is present. Afterwards, your air conditioner will operate more efficiently, will be less susceptible to damage, and will last longer. For these reasons, routine air conditioning tune-ups practically pay for themselves.
Heating Installations in Lenoir
When the time comes to install a new heater in your home or business, it is important to consult with a professionally licensed expert. A new furnace, boiler, or heat pump is a substantial long-term investment. You should take the time necessary to choosing the new heating system that is most customized to provide for your family's comfort needs for years to come.
At McKinneys Heating and Air Conditioning, our heating contractors are here to assist you with the entire effort by providing services like expert heating installation in Lenoir, NC. We are proud to be able to install all conventional heating systems including furnaces, boilers, and heat pumps. Our experts can inspect your property in order to help you choose the most appropriately sized unit. We will then install your heater in the most precise fashion. You and your family are guaranteed to be pleased with the results of our efforts and to thoroughly enjoy the warmth and comfort provided by your new heater for many years.
If you are looking for a professional air conditioning and heating contractor in Lenoir, NC then please call McKinneys Heating and Air Conditioning at 828-544-5570 or complete our online request form.