Furnace Replacement in Hickory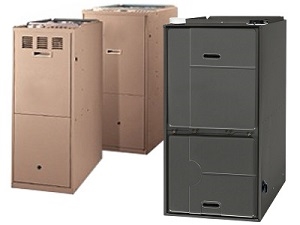 At some point in time, repairing a old furnace is simply no longer cost-effective. By replacing an old and damaged furnace, you can vastly improve the comfort and well-being of your family. Better yet, you can also reduce the amount of money that you spend trying to keep your property comfortable during the winter. At McKinneys Heating and Air Conditioning, our heating contractors are here to help you with furnace replacements in Hickory, NC and the surrounding areas.
Installing a new furnace in your home is a substantial and long-term investment. You and your family will have to live with the results of this project for decades to come. Our Hickory heating contractors can ensure that your furnace replacement effort is a resounding success. We will work our hardest to achieve your complete and total satisfaction, now and in the future.
If you are planning to replace the furnace in your Hickory home and need assistance with the effort, call McKinneys Heating and Air Conditioning today. Our polite staff would be happy to discuss your particular needs with you. Our furnace experts can answer any questions that you may have about your current or prospective heating system. We would be very excited to schedule you consultation or appointment today.
When to Replace Your Furnace
One of the most difficult aspects of a furnace replacement in Hickory, NC is simply knowing when the right time is to conduct the effort. Generally speaking, furnaces can be expected to last for around 20 years. As such, if your heating system is in need of repair and is nearing this age, it may be more beneficial to replace the furnace entirely. Here are so other signs that it may be time to consider replacing your furnace:
Corrosion or damage
Frequent cycling
Inadequate heat
Loud noises
Nonuniform comfort
Dusty air in home
Furnace is constantly on
If you notice any of the above-mentioned problems with your furnace, call our Hickory heating contractors today. We can troubleshoot your system to determine if repairs or replacement would better behoove you. In either event, our professionals will provide you with the most exceptional heating services.
Expert Guidance Selecting Your Furnace Replacement in Hickory
If it is determined that you should replace your furnace, our experts will be available to guide you through the entire selection process. Depending on the layout of your property and your unique performance goals, the size, full type, and other attributes of your optimal furnace will be different. Our professionals can guarantee that you choose a new home comfort system that will be customized specifically to you. You will be pleased with your new furnace for decades to come.
If you would like an estimate for a furnace replacement in Hickory, NC or the surrounding areas, please call 828-544-5570 or complete our online request form.
Recent Articles
What's Involved in Heating & Air Conditioning Tune-Ups in Hickory - One of the most important things that every local homeowner should do is to hire a professional to conduct routine heating and air conditioning tune-ups in Hickory, NC. Your family relies on your heater and air conditioner throughout the year for their comfort and enjoyment. These systems require regular maintenance in order to provide for these needs in the best possible manner … Read More
When to Consider Replacing Your Furnace in Hickory - You and your family rely on your heating system every winter for the comfort and security that you expect and deserve in your home. As such, it is important for you to ensure that it is ready to provide for your needs at all times. At some point, this means that you will have to decide to replace your furnace entirely … Read More