Reliable Heating Repairs in Hickory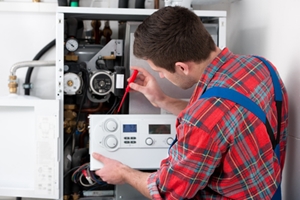 When your heating system operates inefficiently, you have to use more energy and spend more money to keep your family comfortable. When your furnace or boiler breaks down, you and your family are deprived of the warmth, comfort, and security that you expect and deserve within your home. At McKinneys Heating and Air Conditioning, our Hickory heating repairs team is here to help you in either event.
Our professionals have been providing the highest quality heating repair services to Hickory residents and businesses since 1999. We have been so successful for so long for one simple reason. In every service that we provide, our main focus is on maximizing customer satisfaction. During your heating repair service call, our team will bring this dedication to excellence to task for you.
If you need to hire a professional heating contractor in Hickory, call McKinneys Heating and Air Conditioning today. Our polite and knowledgeable staff would be happy to assist you in any way that we can. Our experts can answer any questions that you may have. We would be excited to schedule your appointment today.
Troubleshooting Heating Systems
Without the proper knowledge, training, and experience, fixing a broken heating system is immensely difficult. You need to be able to determine the precise problem that is affecting heating performance. Our highly skilled and expertly trained professionals can assist you in this regard.
We can troubleshoot your furnace, boiler, or heat pump for you. In the process, our team will identify and rectify or repair minor inefficiencies and major issues. After our Hickory heating repairs team is finished, your property will be kept uniformly comfortable in the most efficient manner possible. You are guaranteed to be pleased with the results.
Common Heating Problems that We Routinely Repair
With nearly two decades of experience in the HVAC industry, our Hickory heating contractors have seen just about everything that can go wrong with a furnace, boiler, or heat pump. We are adept at both routine maintenance and emergency heating repair services. Here are just a few of the issues that we can fix for you:
Heating Element Failure
Heater Constantly On
Thermostat Problems
Sensor Malfunctions
Heater Making Loud Noises
Electrical Contacts
Motor and Blower Repairs
Ignition Problems
Heater Cycling Sporadically
And More
If you notice any of these problems with your heating system, you should call our professionals today. We will work our hardest to restore your heater to full, efficient, and reliable operation.
If you need heating repairs in Hickory, NC or the surrounding areas, please call 828-544-5570 or complete our online request form.
Recent Articles
What's Involved in Heating & Air Conditioning Tune-Ups in Hickory - One of the most important things that every local homeowner should do is to hire a professional to conduct routine heating and air conditioning tune-ups in Hickory, NC. Your family relies on your heater and air conditioner throughout the year for their comfort and enjoyment. These systems require regular maintenance in order to provide for these needs in the best possible manner … Read More
When to Consider Replacing Your Furnace in Hickory - You and your family rely on your heating system every winter for the comfort and security that you expect and deserve in your home. As such, it is important for you to ensure that it is ready to provide for your needs at all times. At some point, this means that you will have to decide to replace your furnace entirely … Read More