Specializing in Furnace Repairs in Hickory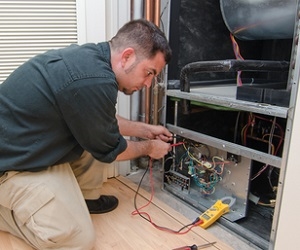 Beyond any doubt, your furnace is one of the most important appliances in your home. During the winter, it provides your family with the comfort, warmth, and security that you expect and deserve within your property. When a problem arises with your furnace, it can often be difficult to know what to do. At McKinneys Heating and Air Conditioning, our Hickory furnace repair contractors are here to help you with any issue that should arise.
Our professional specialize in both routine furnace maintenance and emergency heating repair services. We have been proudly serving Hickory residents and businesses since 1999. Through the high quality services that we provide, we seek to convey the fact that you can trust us to care for your furnace at all stages of its service life. Our team promises to work its hardest to achieve your complete and total satisfaction.
If you want to hire a professionally licensed furnace repair contractor who will bring this dedication to excellence to task for you, call McKinneys Heating and Air Conditioning. Our polite staff is ready to assist you in any way that we can. Day or night, we are ready to address any furnace emergency. We can schedule your service call at your first convenience.
Common Furnace Problems that We Repair
Throughout the last two decades, our Hickory heating contractors have seen just about everything that can go wrong with a furnace. From simple jobs like resolving inadequate maintenance to complex tasks repairing major system components, our professionals can handle the effort for you in the best possible manner. Here are just a few of the common issues that local residents routinely call upon us to repair:
Loud operation
Worn out parts
Electrical problems
Dirty filters
Frequent cycling
Thermostat malfunctions
Inadequate heat
Nonuniform heat
Ignition problems
Emergency Furnace Repairs in Hickory, NC
At McKinneys Heating and Air Conditioning, our Hickory heating contractors believe that no family should ever have to spend a winter evening without a reliable source of heat and comfort within their homes. For this reason, we make ourselves available to provide all of our customers with emergency furnace repairs in Hickory around the clock, seven days a week. Because this is so essential, we do no charge extra for our after-hours emergency heating repair services.
Our team will respond to your call immediately. We will be on site as soon as possible and will work tirelessly until comfort is restored to your home or business. In our haste, our technicians will not forego providing the highest quality possible. After our emergency furnace repairs, you can rest assured knowing that your heating system is in the best condition.
If you need furnace repairs in Hickory, NC or the surrounding areas, please call 828-544-5570 or complete our online request form.
Recent Articles
What's Involved in Heating & Air Conditioning Tune-Ups in Hickory - One of the most important things that every local homeowner should do is to hire a professional to conduct routine heating and air conditioning tune-ups in Hickory, NC. Your family relies on your heater and air conditioner throughout the year for their comfort and enjoyment. These systems require regular maintenance in order to provide for these needs in the best possible manner … Read More
When to Consider Replacing Your Furnace in Hickory - You and your family rely on your heating system every winter for the comfort and security that you expect and deserve in your home. As such, it is important for you to ensure that it is ready to provide for your needs at all times. At some point, this means that you will have to decide to replace your furnace entirely … Read More