Expert HVAC Contractors Conducting Heat Pump Repairs in Hickory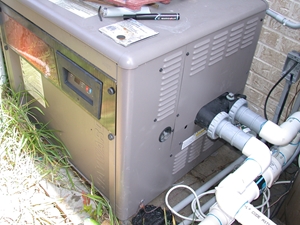 Heat pumps are extremely unique home comfort systems. Because they are extremely efficient, they have recently gained greatly in popularity. Because they provide for your comfort needs on a year round basis, these systems are extremely useful and versatile. At McKinneys Heating and Air Conditioning, our HVAC contractors are here to help you keep your heat pump operating in the best possible manner at all times. You can call us any time for heat pump repairs in Hickory, NC and the surrounding areas.
In 1999, our company was established to provide local residents and businesses with the highest quality heating services possible. We understand the importance of your heat pump to your family or to your commercial property. We are honored by the fact that you are considering us for your heat pump repair needs. Our team promises that we will work our hardest to satisfy all of your comfort needs and goals.
If your heat pump is operating inefficiently or has broken down completely, call McKinneys Heating and Air Conditioning today. Our courteous and polite staff would be happy to take your call. Our Hickory heating contractors can answer any questions that you may have about your system or our exceptional services. We can schedule your appointment today.
Routine Heat Pump Maintenance and Repairs
At McKinneys Heating and Air Conditioning, our Hickory contractors believe that it is always best to take preventative measures to guarantee that our customer's home comfort systems operate effectively and reliably at all times. Minor tune-ups and heat pump repairs in Hickory are always preferable to major problems.
As such, we are proud to provide our clients with yearly routine heat pump maintenance services. During these efforts, our technicians will troubleshoot your entire HVAC system looking for inefficiencies and lingering issues that, if exacerbated, could lead to major problems. Our experienced Hickory heat pump contractors can then conduct repairs on the spot. Afterwards, you can feel confident knowing that your heat pump is in the best condition possible.
Emergency Heat Pump Repairs in Hickory
If you have a heat pump within your Hickory home, you and your family rely on it for comfort on a year round basis. As such, it can fail at any time, rendering your residence almost inhospitable. If there is every a major problem with your heat pump, our repair contractors are just a phone call away.
We will be at your home as quickly as possible. Our emergency heat pump repair team will work as long as it takes in order to restore comfort to your property. As always, your complete and total satisfaction is our highest priority.
If you need heat pump repairs in Hickory, NC or the surrounding areas, please call 828-544-5570 or complete our online request form.
Recent Articles
What's Involved in Heating & Air Conditioning Tune-Ups in Hickory - One of the most important things that every local homeowner should do is to hire a professional to conduct routine heating and air conditioning tune-ups in Hickory, NC. Your family relies on your heater and air conditioner throughout the year for their comfort and enjoyment. These systems require regular maintenance in order to provide for these needs in the best possible manner … Read More
When to Consider Replacing Your Furnace in Hickory - You and your family rely on your heating system every winter for the comfort and security that you expect and deserve in your home. As such, it is important for you to ensure that it is ready to provide for your needs at all times. At some point, this means that you will have to decide to replace your furnace entirely … Read More